NESCO Dust Control Spray Systems
The NESCO Dust Suppression System controls dust with minimal water consumption by adding moisture to the material which reduces dust generation downstream in the process. NESCO systems atomize water into small droplets and when coupled with proper nozzle positioning they produce the optimum balance between effective dust mitigation and wetting material.
The NESCO system uses higher than normal water pressure (125 psi) to add from 0.2 to 0.5 percent moisture by weight to the process. NESCO systems convert water supplied at normal 40 to 50 psi pressures to 125 psi using a high-pressure pump / high speed motor integrated with an electrical control system. The pump forces water at 125 psi into a manifold discharging to output lines. Different spray pattern configurations are used to suppress the dust and add the right amount of water without over wetting the material.
Sprays are directed at the material using pressures that help the water absorb quicker into the material. The addition of moisture reduces respirable and visible dust generation downstream in the process.
Following are the key components of a NESCO system.


Pump Module
The heart of the system is a skid mounted pump module. The pump used is a vertical multi-stage centrifugal pump with TEFC motor, cast iron base, and stainless steel impeller. Heavy-duty brass piping connects the pump with the output lines. Each output line is automated with solenoid valves for remote operation and control. The pump motor start and stop functions are automatic and a flow switch is inline to prevent the pump from operating dry. A Y-Strainer is inline with the pump to prevent large particles from coming down the lines.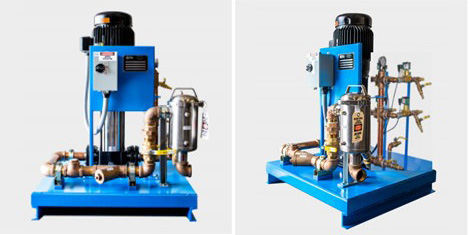 Field Kit
The field kit includes brass spray nozzles (optional Hardened 404 stainless), galvanized pipe fittings, brass hose fittings, mounting brackets, drain valves, shut-off valve, hose adaptors, cable ties, and all other hardware required to fabricate spray bars and install hose.