Dust Tex Net Dust Fence
DustTexNet is a large scale dust containment system. It is also commonly called a dust wall.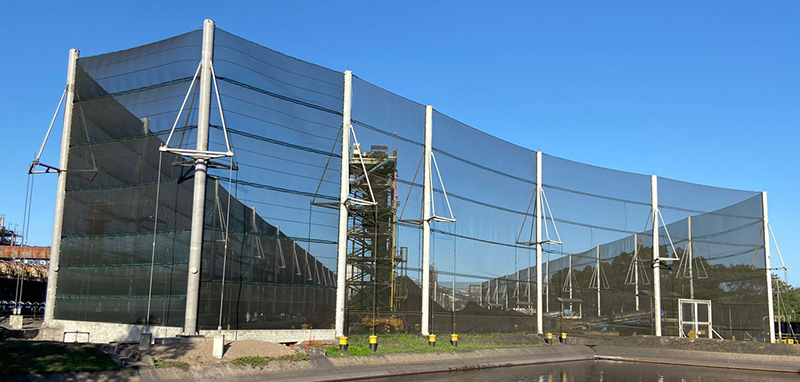 DustTexNet Material
The mesh structure of the DustTexNet makes it washable and resistant to wind and dust. The mesh allows air to pass through the net but not the dust which is trapped in the inner side of the containment net and cannot escape.

The DustTexNet also reduces the wind speed downwind reducing dust lift off so it provides a combined function of dust and wind fence.

The DustTexNet is designed to be self cleaning, resist UVA rays and doesn't lose its color. It also maintains its mechanical characteristics for at least 5 years. The wind that brings dust onto the DustTexNet will also dry and shake the DustTexNet causing the dust to fall to the base of the net itself.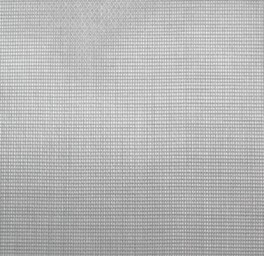 DustTexNet looks like shade mesh which is commonly used for small scale dust walls. DustTexNet is different from shade mesh in the following ways:

DustTexNet is non sparking and non flammable, ideal for coal

DustTexNet is self cleaning

DustTexNet has electrostatic attraction of dust particles
DustTexNet has finer pores capturing smaller dust particles

The DustTexNet material is a critical part of the DustTexNet installation, but the installation provides additional benefits:
10m to 55m high walls
Zig zag material installation changes the angle of impact resulting in smaller dust particles captured
Safety material release in very high winds reducing structural support requirements and costs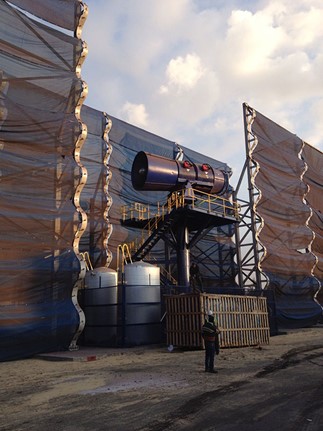 This photo of a demonstration unit shows how the DustTexNet is secured, although in most applications the top of the material would be permanently secured (cable runs through mesh seam) and would not have the release clips.
DustTexNet Advantages
Designed to stop dust particles while allowing air molecules to pass through

Wind braking effect reducing dust lift off and dust movement

Electrostatic attraction of dust particles to capture smaller dust particles when they impact the material

Self cleaning through the action of the wind

Non sparking and non flammable

UV stable for long lifespan
Resistant to strong winds

DustTexNet benefits over solid walls
Solid walls create wind turbulence which can cause dust lift off
Solid walls are more expensive
Dust Fence vs Wind Fence
More Information on Wind Fences
If you have a particular dust control application you would like to discuss or would like more information then please call us on +61 2 6062 3300 or send an email to
sales@wetearth.com.au
.